Zilele trecute, pe 21 decembrie am primit un comunicat de presa care mi-a adus o veste ce m-a bucurat foarte tare. Am lasat vestea sa dospeasca pana azi, vrand sa o public ca un foarte potrivit cadou de ziua mea 🙂
Dupa trei ani de activitate sustinuta a Asociatiei Apicultorilor Sloveni, in data de 20 decembrie 2017, Organizatia Natiunilor Unite a aprobat rezolutia conform careia ziua de 20 mai este declarata "World Bee Day" / "Ziua Mondiala a albinei".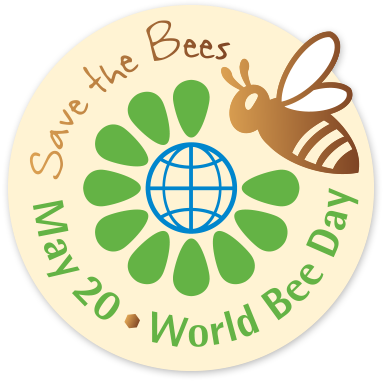 Proiectul initiat de asociatia slovena a fost condus de viceprim-ministrul Republicii Slovene, Dejan Židan. De remarcat acest fapt, care atesta importanta pe care administratia acestui stat o acorda albinelor si polenizatorilor, in comparatie cu politicienii nostri care an de an adopta derogari la legea care interzice utilizarea pesticidelor din clasa neonicotinoidelor in Europa. Proiectul initiat de sloveni s-a bucurat de sprijinul tuturor tarilor, fiind pomenita si Romania, prin suportul oferite de dl. Cristian Constantinescu, Director General of FIITEA.
De asemenea este de apreciat si modul in care slovenii isi onoreaza inaintasii, ziua de 20 mai fiind si ziua de nastere a lui Anton Janša(20 May 1734 – 13 September 1773) considerat un pionier si un expert important al apiculturii moderne.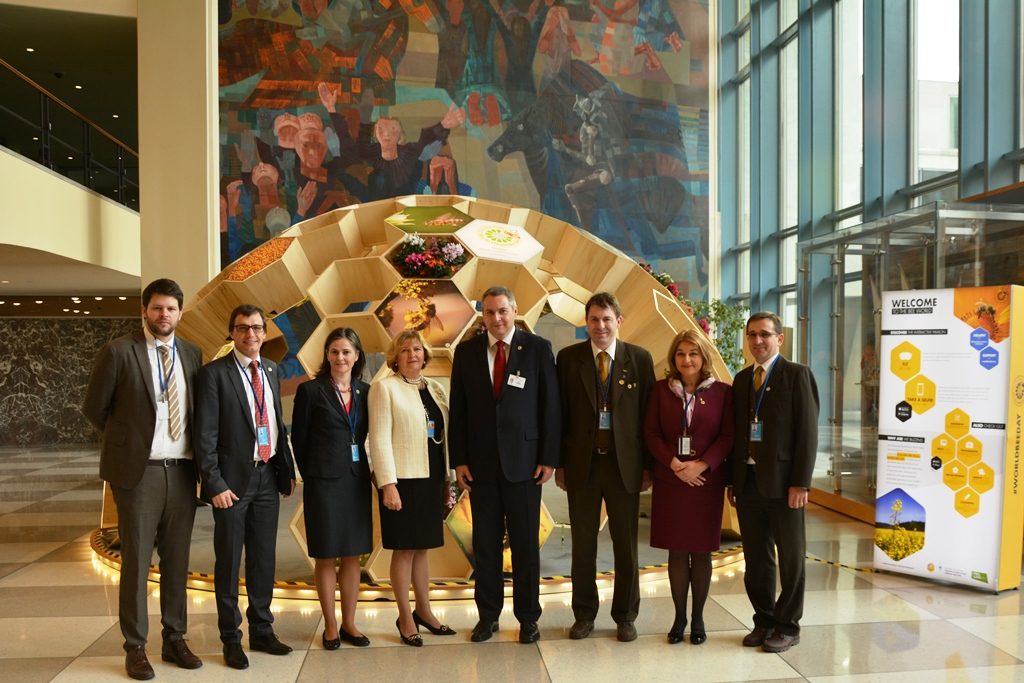 Foto: Delegatia slovena la ONU
Este un prilej de mandrie pentru noi, cei care iubim albina, sa avem o zi in care sa sarbatorim vietatea care ne impacteaza atat de mult vietile, rare fiind zilele in care sa nu le avem in preajma noastra sau in gandul nostru.
Este si un prilej de bucurie si de speranta pentru ca slovenii promit sa mearga mai departe si sa depuna eforturi pentru implicarea guvernelor tuturor tarilor, a comunitatilor de business si a societatii civile in procesul de constientizare a enormei importante pe care o are albina.
Dejan Židan:

"This is just the beginning of the difficult process of the protection of bees and other pollinators. In order to be successful, we must bring on board the governments of all countries, the business community and civil society. Awareness of the vital importance of saving the bees must reach every individual. And we must do more than just talk – we must undertake concrete activities to increase care for bees and promote the development of beekeeping – everywhere, including in developing countries."
Studiile efectuate de Organizatia Natiunilor Unite" si de "International Union for the Conservation of Nature" arata ca populatiile de albie si polenizatori salbatici s-au restrans drastic in ultimii ani, ca o consecinta a activitatii umane irationale – agricultura intensiva, utilizarea pe scara larga a pesticidelor, poluarea, schimbarile climatice, etc.
Carla Mucavi – Director of the Food and Agriculture Organization of the United Nations (FAO) Liaison Office in New York:

"Bees play a crucial role in increasing crop yields and promoting food security and nutrition. Without them, we could lose a variety of food such as potatoes, pepper, coffee, pumpkins, carrots, apples, almonds, tomatoes, just to name a few. In short, without bees, FAO cannot achieve a world without hunger. World Bee Day recognizes the importance of these tiny helpers and will increase awareness of the need to protect them."
Boštjan Noč, promoter of the World Bee Day initiative and president of the Slovenian Beekeepers' Association:

"From today on, 20 May will be a worldwide celebration of bees and beekeepers. I believe that with the proclamation of World Bee Day, the world will begin to think more broadly about bees, in particular in the context of ensuring conditions for their survival, and thus for the survival of the human race."
Pentru cine se mai intreaba de importanta albinei, inclusiv cea economica, va rog sa tineti minte: Fiecare a treia lingura de hrana se datoreaza albinei si celorlalti polenizatori!